Herbert Veitengruber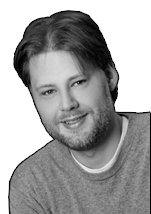 "Passionate coder, lateral thinker,
creative mind and part-time geek."
Resident:
Germany, Schwanstetten
Languages:
German, English
Current Position:
Software Architect / Developer
Expert developer with a passion for interaction design.
Currently his work is focused on Multi-Touch Presentation Solutions, iOS Enterprise App's and Java Applications. In the past he developed interactive media applications and web sites with many different technologies.
But his true passion is still Java which he started back in 1997 with JDK 1.1.
Interests
Besides from experimenting with new API's -
Herbert enjoys board games with a good balance between tactics and chance,
RPG's, video games, Asian-Action-Cinema, drawing and cooking.
His famous "Würstelgulasch" will get posted soon.
Get in touch
You want to know more about Herbert?