Aeronaut for Crimson Skies
Aeronaut is an un-offical custom aircraft, zeppelin and pilot design/editing tool for the out-of-print Crimson Skies board game by created FASA.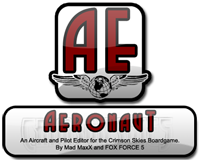 About
The development of Aeronaut started in 2009, as a replacement for Cadet by Scott Janssen. Unfortunately he never released a version which supported the "Behind the Crimson Veil" rules.
Also over the years the Crimson Skies community, developed a lot of custom house rules. Which made it difficult to use these rules with Cadet.
The idea behind Aeronaut was not only to make a useful tool, which can be easily extended without programming, but also to design a GUI that catches the flavor of Crimson Skies Diesel-Punk universe.
Flash / Actionscript 3 based (Wrapped executable no Flash Player required!)
Platform: Windows XP/Vista/7
Open Source (MIT License)
More Informations
Follow one of these links for more information about Crimson Skies or Aeronaut.